RELATED SITES
-
-
-
-
-
-
---
Buy My Stuff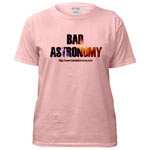 Keep Bad Astronomy close to your heart, and help make me filthy rich. Hey, it's either this or one of those really irritating PayPal donation buttons here.
---
---
---
Welcome to the homepage for Bad Astronomy!

As an astronomer, teacher, lecturer and all-around science junkie, I am exposed to all sorts of people and their ideas about what goes on in the sky around them. I have been delighted to find that most people are very curious about the night (and day!) sky, but unfortunately a lot of misinformation is spread about astronomy. Sometimes this information is just plain silly, but many times it makes just enough sense that people believe it. Sometimes the news media help spread these ideas (like the one that you can spin or stand an egg on end during the Vernal Equinox), sometimes it's TV and sometimes it's plain old word of mouth, but the misinformation does get around.

I feel obliged to right these wrongs when I can. The Bad Astronomy web pages are devoted to airing out myths and misconceptions in astronomy and related topics. At the moment, I have no desire to tackle here such thorny topics as astrology, alternate views of the universe that are clearly in contradiction to observations, and the like. I may add something like that eventually, when I have more time (translation: "never").

But enough from me. Mark Twain said it best:

"In the space of one hundred and seventy-six years the Lower Mississippi has shortened itself two hundred and forty-two miles. Therefore ... in the Old Oolitic Silurian Period the Lower Mississippi River was upward of one million three hundred thousand miles long... seven hundred and forty-two years from now the Lower Mississippi will be only a mile and three-quarters long... There is something fascinating about science. One gets such wholesale returns of conjecture out of such a trifling investment of fact."
---

©2008 Phil Plait. All Rights Reserved.
This page last modified
<!- END GOOGLE ADSENSE-->