RELATED SITES
-
-
-
-
-
-
---
Buy My Stuff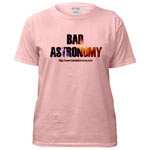 Keep Bad Astronomy close to your heart, and help make me filthy rich. Hey, it's either this or one of those really irritating PayPal donation buttons here.
---
---
Links
---
My Top Ten Picks (and growing)
Okay, so there are more than 10. There are a lot of good sites out there!
More "Bad" and Skeptical Pages
There are lots of Bad Science web pages out there, as well as pages for skeptical thinking. Here are a few for your perusal:
<!- END GOOGLE ADSENSE-->