RELATED SITES
-
-
-
-
-
-
---
Buy My Stuff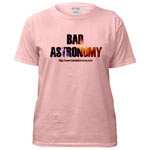 Keep Bad Astronomy close to your heart, and help make me filthy rich. Hey, it's either this or one of those really irritating PayPal donation buttons here.
---
---
Information
On these pages you will find information about this site including a search engine, awards the site has won and a list of related links. You can also find out about me, my schedule of events and how to contact me if you have a question, a comment or want to have me come to your town and give a talk.
---
Pages in this section:
---

©2008 Phil Plait. All Rights Reserved.
This page last modified
<!- END GOOGLE ADSENSE-->