RELATED SITES
-
-
-
-
-
-
---
Buy My Stuff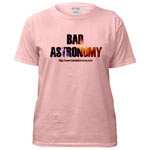 Keep Bad Astronomy close to your heart, and help make me filthy rich. Hey, it's either this or one of those really irritating PayPal donation buttons here.
---
---
Radio Interviews

BoV is a regular radio segment I do on the SETI Institute's Are We Alone radio show hosted by my old friend and fellow astronomer Seth Shostak. The segment is a humorous look at silly things people believe, with a scientific bent. The show is on once a month, and I'll update my webpage about it shortly before each show. There is also an archive of old episodes.


C2C is a nationwide late-night radio program devoted to, ah, well, a lot of stuff I actually fight on this website! They have lots of interviews with people who chase ghosts, talk to the dead, have seen the Chupracabra, and the like. But they do sometimes have real scientists on (many friends of mine have done interviews), and I've been on several times. I have a synopsis of some of these appearances on my Misconceptions list page.


I did a lengthy interview on April 11, 2005, with Aaron Price and Pamela Gaye for their podcast Slacker Astronomy. They edited the full length, one hour interview into a much shorter 14 minute MP3. A second interview, from May 16, 2005, is also now online.
---

©2008 Phil Plait. All Rights Reserved.
This page last modified
<!- END GOOGLE ADSENSE-->