RELATED SITES
-
-
-
-
-
-
---
Buy My Stuff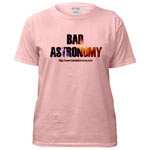 Keep Bad Astronomy close to your heart, and help make me filthy rich. Hey, it's either this or one of those really irritating PayPal donation buttons here.
---
---
Search the Site!
---
Do you wonder if your favorite topic in astronomy has been abused by the media? Here's your chance to look for it. You can search the Bad Astronomy site for whatever topics you'd like. Simply type the words into the form below and see what you get.
This search utilizes Google's free searching service. It is very fast, and will open a new browser window with the results.
---

©2008 Phil Plait. All Rights Reserved.
This page last modified
<!- END GOOGLE ADSENSE-->