RELATED SITES
-
-
-
-
-
-
---
Buy My Stuff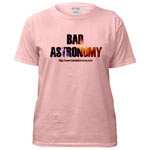 Keep Bad Astronomy close to your heart, and help make me filthy rich. Hey, it's either this or one of those really irritating PayPal donation buttons here.
---
---
Over the past few years, I've done quite a bit of work in various media, including writing for magazines and newspapers, interviews for radio, and appearances on TV. In these pages you'll find information and links about these media circuses (circii?).
---

©2008 Phil Plait. All Rights Reserved.
This page last modified
<!- END GOOGLE ADSENSE-->