RELATED SITES
-
-
-
-
-
-
---
Buy My Stuff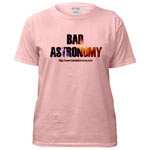 Keep Bad Astronomy close to your heart, and help make me filthy rich. Hey, it's either this or one of those really irritating PayPal donation buttons here.
---
---
In Print
Over the years I have been lucky enough to have written for a great variety of printed media, including newspapers, magazines and yes, even websites. I decided to collect all that I could and put it on one spot here on the Bad Astronomy website. Below are links to the various places that have seen fit to print something that I wrote.
---

©2008 Phil Plait. All Rights Reserved.
This page last modified
<!- END GOOGLE ADSENSE-->