RELATED SITES
-
-
-
-
-
-
---
Buy My Stuff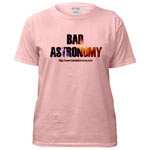 Keep Bad Astronomy close to your heart, and help make me filthy rich. Hey, it's either this or one of those really irritating PayPal donation buttons here.
---
---
The Pantry's Full
November 7, 2000
The past few months have seen a lot of changes in my life, and almost all are for the better. I have several new writing jobs, which is wonderful, but unfortunately they make it very difficult for me to update my website. The Bitesize pages were a very large component of the time it takes to keep up the site, so I am afraid these pages are on indefinite hiatus. You can get a list of the old Snacks by looking at the Pantry.
I still do a lot of writing, and when the venue is online, I link to it on the In Print page. Don't forget too you can talk about astronomy to other space-junkies on the Bad Astronomy Bulletin Board.
-Phil Plait, aka The Bad Astronomer
---

©2008 Phil Plait. All Rights Reserved.
This page last modified
---
<!- END GOOGLE ADSENSE-->
---
---
---