RELATED SITES
-
-
-
-
-
-
---
Buy My Stuff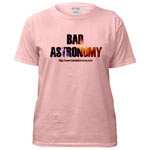 Keep Bad Astronomy close to your heart, and help make me filthy rich. Hey, it's either this or one of those really irritating PayPal donation buttons here.
---
---
Flushed with Pride
Bad Astronomy: Water spins down a drain one way in the Northern hemisphere and the other way in the Southern hemisphere."

Good astronomy: This just ain't so. The way water spins down a drain has almost nothing to do with which hemisphere you are in.
---
How it works:
There is a far better explanation located here than I could ever cobble together. I highly recommend reading it. It lays to rest this silly assertion, and also debunks a trick used to fake this effect.

The physics FAQ (Frequently Asked Questions list) also has a good (if slightly more technical) explanation of this.
---

©2008 Phil Plait. All Rights Reserved.
This page last modified
<!- END GOOGLE ADSENSE-->