RELATED SITES
-
-
-
-
-
-
---
Buy My Stuff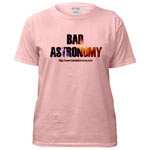 Keep Bad Astronomy close to your heart, and help make me filthy rich. Hey, it's either this or one of those really irritating PayPal donation buttons here.
---
---
Over the years there have been times I have written just one article for some magazine or website. Here are links to those misfits. Unfortunately, a lot of magazine websites don't archive older articles, so things I have written for Muse (a children's magazine), Maxim, Space Illustrated and a few others are unavailable. Oh well.
---
Top 5 Cosmic Myths (September 3, 2002) is a look at what may be the five most common misconceptions people have about space. It was published on the space.com website.
I've written a few articles that have gone with my appearances on TechTV:
Here is an article about me that was printed in the Sonoma State University alumni magazine.
---

©2008 Phil Plait. All Rights Reserved.
This page last modified
<!- END GOOGLE ADSENSE-->