RELATED SITES
-
-
-
-
-
-
---
Buy My Stuff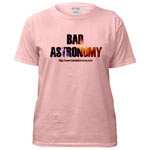 Keep Bad Astronomy close to your heart, and help make me filthy rich. Hey, it's either this or one of those really irritating PayPal donation buttons here.
---
---
HST Deployed!
Week of February 17, 1997
Just a quick note for this week, since I was out all last week watching the Space Shuttle launch:

At 1:41 EST on Wednesday, February 19, the crew of the Space Shuttle Discovery released the Hubble Space Telescope from the orbiter so that it might orbit free once again. They had a completely successful mission, installing both NICMOS and STIS (check the Pantry at the bottom of this page, Week of Feb. 10, for more on them) as well as several pieces of hardware to improve Hubble's performance. Preliminary tests show that Hubble and its new cameras are working well.

The Space Telescope Science Institute has a page devoted to the mission. They also have a very nifty link to a page at the Marshall Space Flight Center that shows where the shuttle, Hubble, and various satellites are right now.

The Discovery Channel Online has a few pages devoted to the servicing mission as well.
---

©2008 Phil Plait. All Rights Reserved.
This page last modified
---
<!- END GOOGLE ADSENSE-->
---
---
---