RELATED SITES
-
-
-
-
-
-
---
Buy My Stuff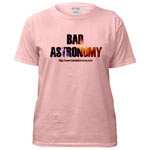 Keep Bad Astronomy close to your heart, and help make me filthy rich. Hey, it's either this or one of those really irritating PayPal donation buttons here.
---
---
The Pantry (by Topic)
Here is a complete listing of all the Bitesize Snacks, arranged by topic. Note that some Snacks are listed under multiple topics, if I feel they shouldn't be confined to just one.

Topic Index:
---
The Solar System
Note: The solar system Snacks are broken up into the Tour of the Solar System (from 1997), and then a group for each object.
The Tour of the Solar System
The Sun
Venus
Earth (planet, atmosphere, meteors, etc.)
The Moon
Mars
Asteroids
Jupiter
Saturn
Pluto
Comets
Hubble and Other 'Scopes
Stars and the Galaxy
Other Galaxies and the Universe
Miscellaneous: Non-Scary Physics and Philosophy
---

©2008 Phil Plait. All Rights Reserved.
This page last modified
---
<!- END GOOGLE ADSENSE-->
---
---
---