RELATED SITES
-
-
-
-
-
-
---
Buy My Stuff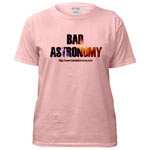 Keep Bad Astronomy close to your heart, and help make me filthy rich. Hey, it's either this or one of those really irritating PayPal donation buttons here.
---
---
Prospector to the Moon
Week of January 5, 1998
NOTE:
After I posted this on Monday, the launch of the Lunar Prospector was delayed until Tuesday, January 6 at 9:28 p.m. Eastern (2:28 GMT).
---
When the Apollo missions ended in the 1970's people wondered when we would go back to the Moon (actually, there have been a few probes launched since then by the Russians and Japanese). On January 5th at 01:32 GMT (8:32 p.m. Eastern Time) the U.S. starts again: the Lunar Prospector will be launched. Weighing less than 300 kilograms, the Prospector is designed to look for useful natural resources on the Moon, such as water, minerals and gases. It is the first of a series of probes planned in the first steps of re-exploring the Moon, possibly for future bases.

The Lunar Prospector website is loaded with useful info about the Moon, the probe and what the project hopes to accomplish. I recommend it! I have some pages about the Moon as well; check The Pantry (at the bottom of this page) for older snacks about our nearest neighbor.
---

©2008 Phil Plait. All Rights Reserved.
This page last modified
---
<!- END GOOGLE ADSENSE-->
---
---
---