RELATED SITES
-
-
-
-
-
-
---
Buy My Stuff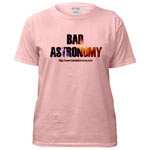 Keep Bad Astronomy close to your heart, and help make me filthy rich. Hey, it's either this or one of those really irritating PayPal donation buttons here.
---
---
So you want to buy a telescope?
Week of January 26, 1998
I receive quite a bit of email every day from people about all sorts of astronomy-related topics. One of the more frequently asked questions is something like "What kind of telescope should I buy?" Ironically, if you asked most professional astronomers that question, they wouldn't be able to help you much! Not very many professional astronomers are also amateurs; that is, most don't own a small 'scope that they use for their own pleasure on a clear night. I think most are too busy!
Luckily, Your very own Bad and Bitesized Astronomer has different priorities! I started out an amateur, and still consider myself to be a hybrid of amateur and professional astronomer. I own a modestly sized 25 centimeter (10 inch) Newtonian telescope I paid for through my newspaper route in junior high school, and I still use it when I get the chance (of course, my back muscles are a lot older now, so it has to be really clear for me to do it!). I also taught a night lab class for three years, so I know my way around a telescope and the sky. Now, I haven't purchased a telescope in quite some time, so I am not up to date with everything out there. However, other folks are, and they do have a lot of advice for the novice 'scope buyer.
So, for the benefit of those that want to know, and to make it easier on me when I get asked, I have added a list of links you can look through and see what's what.
As time goes on, I may add more links to this page with other people's sites (I know of a couple more but I seem to have temporarily misplaced the URL's). Check back here every now and then to see what's new!
---

©2008 Phil Plait. All Rights Reserved.
This page last modified
---
<!- END GOOGLE ADSENSE-->
---
---
---