RELATED SITES
-
-
-
-
-
-
---
Buy My Stuff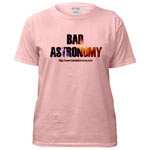 Keep Bad Astronomy close to your heart, and help make me filthy rich. Hey, it's either this or one of those really irritating PayPal donation buttons here.
---
---
Gloria Steinem and Anti-Science
Week of January 19, 1998
This page is a bit of a cheat. I have had yet another amazingly busy week (with more to come, sigh), and I don't have anything completely new for this page. However, I did put up something on my Bad Astronomy page that perhaps could use a bit more coverage. I saw an interview with Gloria Steinem, in which she expressed (to me) an astonishingly short-sighted and anti-scientific viewpoint. I wrote up an explanation of what she said and why I think she is so very wrong. This issue may strike some as controversial, since it deals, on the surface, with gender issues. However, my beef with her has little to do with that, and far more about her attitude toward knowledge and research. Please feel free to email me and let me know what you think too!
---

©2008 Phil Plait. All Rights Reserved.
This page last modified
---
<!- END GOOGLE ADSENSE-->
---
---
---