RELATED SITES
-
-
-
-
-
-
---
Buy My Stuff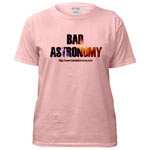 Keep Bad Astronomy close to your heart, and help make me filthy rich. Hey, it's either this or one of those really irritating PayPal donation buttons here.
---
---
Pictures from Hubble
Week of May 12, 1997
As I reported back in February, the Space Shuttle Discovery installed new instruments on board the Hubble Space Telescope The two cameras, named NICMOS (for Near Infrared Camera and Multiobject Spectrometer) and STIS (for Space Telescope Imagine Spectrograph).
NASA and the Space Telescope Science Institute have released the first images taken by these instruments today (Monday 5/12) in a press conference at 11:00 Eastern Time. The pictures are stunning and can be found at the the public Hubble web site. There are also a few animations to help understand the images.
---

©2008 Phil Plait. All Rights Reserved.
This page last modified
---
<!- END GOOGLE ADSENSE-->
---
---
---