RELATED SITES
-
-
-
-
-
-
---
Buy My Stuff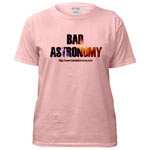 Keep Bad Astronomy close to your heart, and help make me filthy rich. Hey, it's either this or one of those really irritating PayPal donation buttons here.
---
---
The Birdcage
This is the archive of older Bad News articles, in reverse chronological order. You can access the most recent article by going to the current Bad News page. As far as the title of this page goes, what do you do with your old newspapers?

As always, if you want to see some good news, check out my list of astronomy news sites
---

©2008 Phil Plait. All Rights Reserved.
This page last modified
THE BIRDCAGE: ARCHIVE OF OTHER BAD NEWS ITEMS
<!- END GOOGLE ADSENSE-->
---